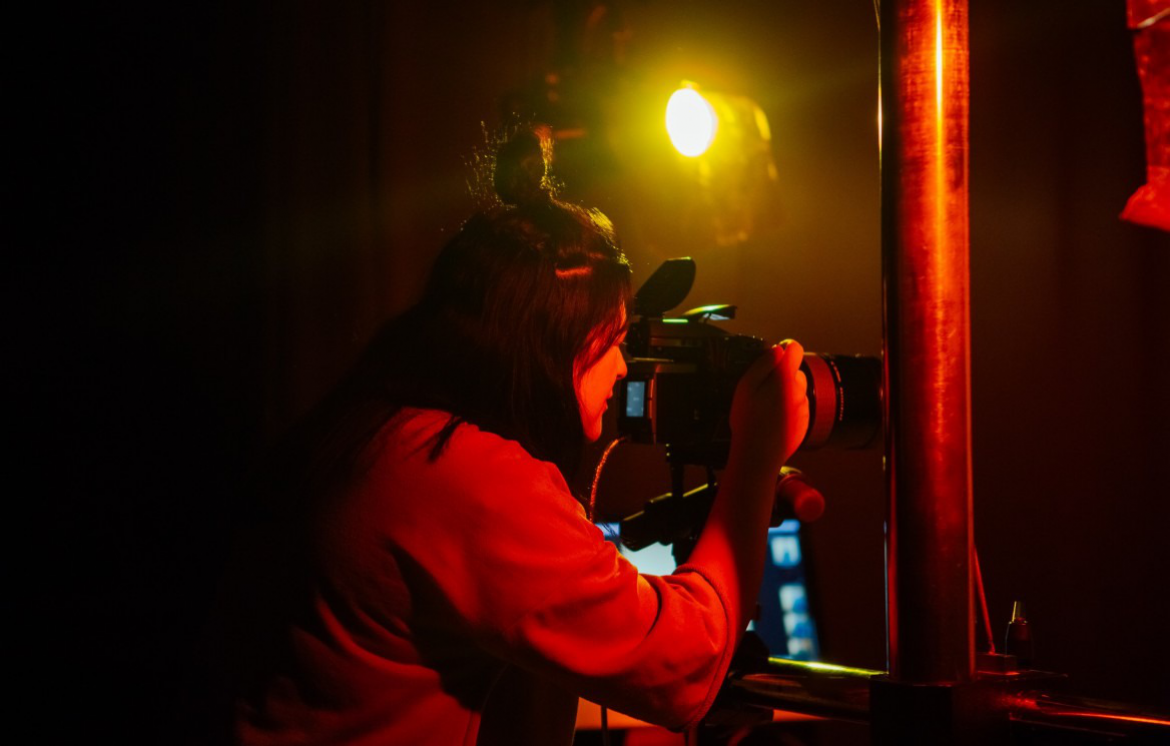 1. Thomas Hird short films
Media Production graduate, Thomas Hird, won 'best silent film' at Beyond the Curve Festival!
The film was a second-year project with a crew of four students and also starring one of our performing arts degree students!
Thomas took some time out of education before coming back to study a Foundation Degree in Film and Media Production, before progressing on to our top-up degree.
He's loved it ever since and now has some short films being shown at film festivals around the world
Click here to view Thomas's work https://sheffcolshowcase.com/students/thomas-j-hird
2. Harriet Massey photography award
Harriet Massey who studies photography was awarded joint second place in this year's Sheffield Park Hill Student Photography Competition run by Photo North. Harriet has getting some incredible experience as a photographer at Sheffield Wednesday Football Club over the last few years and her entry, The Story of Football, focuses on the people who make up the community of a football club.
Harriet said: "This is a really proud moment for me, and without The Sheffield College, none of this would've been possible."
Harriet's some advice for others keen to break into the industry. "Please don't give up!" she added. "Becoming a better photographer is not something that happens overnight. My images have progressed over a course of four years, through trial and error and focusing on improving a different aspect each game.
Click here to view our photography courses.
3. Tokyo 2020 Paralympic Draw
In May 2021, our media production students had an incredible, once of a lifetime opportunity to play their part in this summer's Tokyo 2020 Paralympic Games.
The International Wheelchair Rugby Federation needed a location and technical support so they could host the draw to decide which countries would play against each other in the Tokyo 2020 Paralympics Wheelchair Rugby.
Our students provided technical support and operated the cameras at our Hillsborough Campus TV studio which allowed the event to be live streamed via the IWRF YouTube's channels across the world to officials in Japan and Australia! Talk about global experience!
Interested in media production? Click here to find out more.
4. Getting creative with Final Major Projects
One of the beauties of being a creative is getting the license to look at the world from another angle and be judged on it accordingly.
With that in mind, nothing cheered us up more than the additional project that one of our Access to HE: Photography students, Carl, set himself the challenge of completing during lockdown.
Carl decided to recreate iconic film and album covers using his wife as a model, then photographing then for staff and students to try and identify.
We absolutely loved the freedom, commitment and execution of completing these when times were tough. Genius!
Click here to find out about our Access to Higher Education courses.
5. Journalism students hitting the news
If you're training to be a journalist, the very best thing you can be doing – other than training with us – is landing yourself some opportunities with local and national media.
Over the last couple of years, you might well have seen our students all over the place!
Just the other week, one of our students, Lucy, was on BBC News talking about the England game at Euro 2021, and we've also had multiple students shortlisted for the BBC Young Reporter of the Year.
In fact, the winner of the competition in 2020 was our very own Niamh Brownhill who wonderfully documented the struggles her mum has had with alcoholism. Her story was featured on the BBC website and even made an appearance on tv!
Former student, Ricky, now works for the Daily Mirror, focusing his writing on the English Football League, and Ellen Beardmore is now the Deputy Editor for The Sheffield Star.
Some serious pedigree, there!
To find the right course for you and to apply today, visit https://www.sheffcol.ac.uk/subject-areas/media-journalism-and-photography