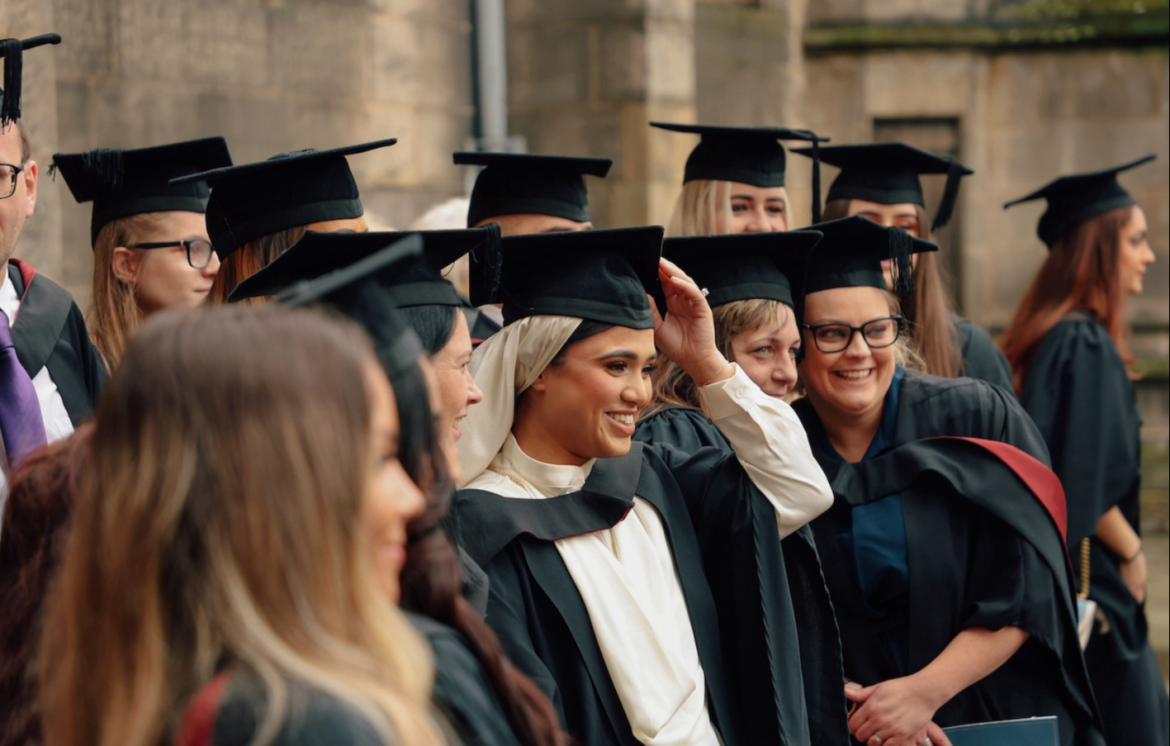 University level students have given The Sheffield College top marks for providing an excellent teaching and learning experience.
Every year, final year students completing higher education qualifications at colleges and universities nationally rate their experience.
The National Student Survey gathers students' opinions about the quality of their courses.
In the latest 2022/23 survey, published by Office for Students last month, the college ranked higher than the national average in the key categories.
Tina Harrison, Assistant Principal, Higher Education, The Sheffield College, said: "We are very proud of the positive feedback from our university level students.
"We want to ensure that our students enjoy every minute of their time with us as we support them to achieve their career ambitions.
"It is great to see that our students regard the quality of teaching and learning so highly on our higher education courses. It is very encouraging to rank well in the National Student Survey and given the comparison to other institutions up and down the country."
Students were asked about the quality of their higher education programmes and whether they have had a positive experience.
The following theme measures are based on experimental statistics from the National Student Survey 2023. For details on the questions and data that contributed to these six themes, please check the notes section further below.
Freedom of expression: 92% agreed compared to 86% nationally
Teaching on my course: 89% agreed compared to 85% nationally
Learning opportunities: 84% agreed compared to 81% nationally
Academic support: 84% agreed compared to 83% nationally
Assessment and feedback: 82% agreed compared to 78% nationally
Mental wellbeing services: 81% agreed compared to 75% nationally
The college also had a high survey participation rate with 81% of final year students taking part compared to an average of 71% across the higher education sector.
A wide range of career focussed courses are offered by the college at its UC Sheffield - based at City Campus and Hillsborough Campus. These include foundation and honours degrees, higher national certificates and diplomas.
Subjects offered range from animal care, engineering and games design to performing arts and music, and media, photography and journalism and sport. All of the courses are validated by leading universities including Sheffield Hallam University.
The college also offers higher technical qualifications in computing, construction and health. They provide students with a route into qualified technical pathways and highly-skilled, rewarding careers.
These qualifications, available at Levels 4 and 5, have been developed with employers. They have been approved by the Institute for Apprenticeships and Technical Education as meeting the occupational standards in the relevant industry sectors.
Compared to university settings, college-based higher education students benefit from smaller class sizes, personalised support and lower fees. Find out more about our university level courses.
About the National Student Survey (NSS) 2023
The NSS results in 2023 are not directly comparable to NSS results in previous years due to significant changes to the methodology of the survey. These changes include the removal of an 'overall satisfaction' question (for HE providers in England), response options moving from a five-point scale to a four-point scale, and that scores are expressed as a 'positivity' measure instead of the previous 'percentage agree'. New questions for students at English HE providers have also been introduced in 2023.
This year saw two questions added for the first time, on communication about the provider's mental health provision, and freedom of expression, with our scoring above the sector benchmark for both. Benchmarks are weighted sector averages that are calculated by the Office for Students (OfS) to adjust for factors that contribute to an institution's NSS results, such as subject mix, mode and level of study, and student demographics. The following questions and scores have contributed to this year's six themes and the resulting data for The Sheffield College:
Theme 1 - freedom of expression

. The following scores combined to produce this theme: 92.31% of students said they felt they were free to express their ideas, opinions and beliefs.

Theme 2 - teaching on my course.

The following scores combined to produce this theme: 93.68% of students said teaching staff are good at explaining things; 88.3% said teaching staff make the subject engaging; 87.37% said the course is intellectually stimulating; 86.32% said the course challenges them to achieve their best work.

Theme 3 - learning opportunities.

The following scores combined to produce this theme: 80.85% of students said they have had the chance to explore ideas and concepts in depth; 88.42% said the course introduces subjects and skills that builds on what they have already learned; 80.85% said they have had the chance to bring together information and ideas from different topics; 84.21% said the course has the right balance of directed and independent study; 84.21% said the course has developed their knowledge and skills.

Theme 4 – academic support.

The following scores combined to produce this theme: 87.37% said teaching staff had supported their learning; 80.85% said it was easy to contact teaching staff; 63.16% said the course is well organised; 70.21% said changes to teaching were well communicated; 77.89% said IT resources and facilities have supported their learning; 85.88% said library resources have supported learning well; 82.61% said it was easy to access subject specific resources;

Theme 5 – assessment and feedback.

The following scores combined to produce this theme: 86.32% of students said the marking criteria used to assess their work was clear; 92.55% said the marking and assessment on their course was fair and 88.42% said the assessments have allowed them to demonstrate what they have learned; 70.97% of students said they have received assessment feedback on time; 76.6% said feedback helps them to improve their work; 80.85% said it was easy to contact teaching staff when they needed to; 72.63% said they had the right opportunities to give feedback on their course; 81.05% said students' opinions are valued by staff; 64.89% agreed it is clear students' feedback on the course is acted on and 77.03% said the students union represents students' academic interests.

Theme 6 - mental wellbeing services.

The following score produced this theme:

81.11% said information about the college's mental health support services was well communicated.
Pictured: Higher education students celebrate at the college's annual graduation ceremony.