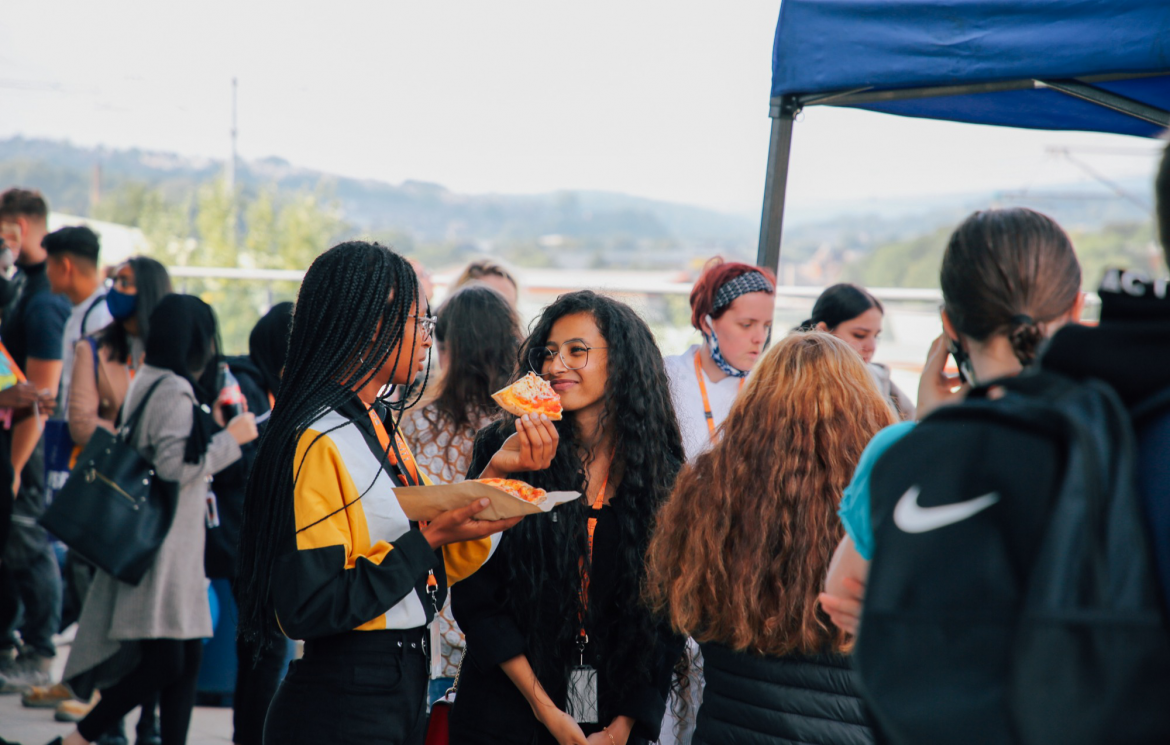 FIND OUT MORE ABOUT OUR COURSES AND MEET YOUR TUTORS
At The Sheffield College Open Days, you will get the chance to meet the people who will be teaching you and have a chat about what each course involves, so you can decide which study programme or Apprenticeship is right for you. You'll also get the chance to view some examples of previous students' work.
TOUR OUR FANTASTIC FACILITIES
At The Sheffield College Open Days, you'll get the chance to tour our facilities and see where you'll be learning. All our sites include state of the art facilities, inspirational learning environments and great communal areas to work and relax in before your next lesson. Some of our fantastic facilities include:
Revive Hair and Beauty salon - Based within our City Campus, our fantastic hairdressing, beauty, and spa facilities host a wide range of affordable treatments available to the public and local business communities, all run and performed by our talented students with the help of our expert staff.
The Silver Plate Restaurant - Serving delicious locally sourced food, the award-winning Silver Plate Restaurant allows our Catering and Hospitality students to showcase their talents. They host tasting menus, lunch, and evening meals to the public.
Motor vehicle workshop – Based within Olive Grove campus, we have a dedicated motor vehicle workshop with a tyre fitting machine as well as a workshop for body repair and refinishing. This gives you the chance to learn your trade in state-of-the-art automotive facilities which resemble mechanical workshops and garages.
Recording studios – Based in Hillsborough campus, music students can take advantage of using our very own recording studios, sound-proof rehearsal rooms and editing suites.
GAIN VALUABLE CAREERS ADVICE
At The Sheffield College, we have a dedicated Careers Advice Service who are on hand to help you achieve your dream career by providing guidance and resources, as well as hosting careers events throughout the year. There will be opportunities available at our Open Days to speak to our job experts about careers you're interested in and what you need to do to get there. You can find out more about the support available and how they can help you with your career planning here: http://www.sheffcol.ac.uk/careers-advice
SPEAK TO OUR STUDENT SERVICES TEAM
Our Student Support Team will be on hand to help you with any questions, concerns, or problems that you might face whilst at college. Whether you require financial support, need to discuss childcare options, or want advice on the best travel options. You can find out more about the support available here: http://www.sheffcol.ac.uk/student-support
LEARN ABOUT OUR SPORTS TEAMS AND ENRICHMENT OFFERS
At The Sheffield College you will have the chance to be part of our very own exclusive sports club, where you will have the opportunity to compete in a national league with other universities and FE colleges. There are teams competing in almost every sport you can think of, from football and basketball, to swimming and trampolining. We also have fully equipped gyms, sports halls, and brand-new dance studios.
Sport not your thing? Not to worry! There are societies at the college for almost everything, from creative clubs, right through to chess. If we don't have what you're looking for, we can always help you set up your own!
WHAT HAPPENS WHEN I GET THERE?
If you have already booked your place, you won't need to sign in on the day, just head straight to your subject of interest where tutors will be available to answer any questions you have.
Maps will be provided to inform you where each subject will be based in each campus and members of staff will be on hand to help point you in the right direction, ensuring you get the most out of your visit.
If you haven't booked your place, please see someone at reception to get signed in. Once you have done so, feel free to explore any subjects that you are interested in and take a look at what The Sheffield college has to offer!
You can find more information about our college Open Days and book a place here: https://sheffcol.ac.uk/open-days