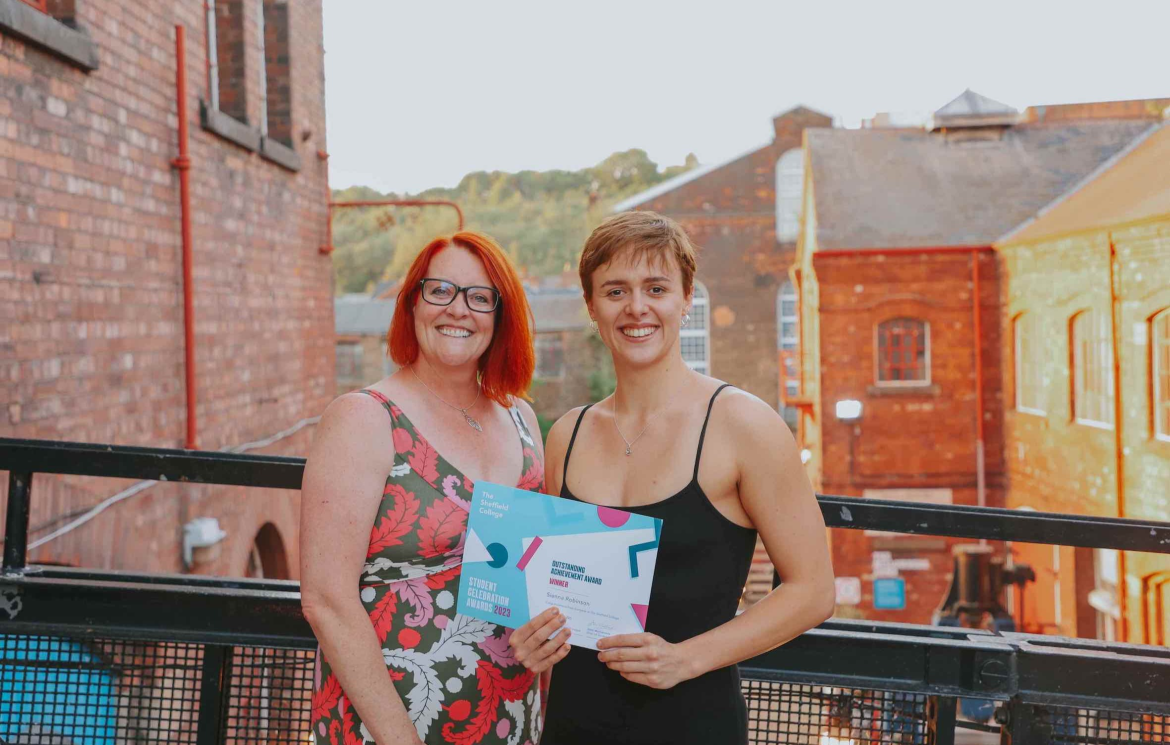 An elite swimmer and sports student at The Sheffield College is celebrating after winning a gold medal in the Commonwealth Youth Games.
Sienna Robinson set a new best twice on the same day in the women's 50 metre breast-stroke at the National Aquatic Centre in Trinidad this month.
Sienna said: "I just wanted to bring that gold medal home for England and make my family proud. That's what was carrying me through that final."
The Commonwealth Youth Games took place on the Caribbean islands of Trinidad and Tobago from 4th to 11th August 2023.
Sienna, who receives a bursary from British Swimming, is among a group of elite student athletes who have benefited from a sport scholarship scheme at The Sheffield College.
The college's sport scholarship programme helps talented athletes to focus on their studies whilst also continuing to train and compete at the highest level.
The programme has received recognition having been accredited to Sport England's Talented Athlete Scholarship Scheme (TASS). TASS accreditation recognises an education institution's commitment to supporting students who are following a dual career route.
Sienna completed her college course whilst juggling 22 hours swim training a week and competitions.
In addition to achieving in her sport, Sienna's hard work and studying have also paid off. Sienna has just secured double distinction stars in the Sports Coaching and Development Level 3 Diploma.
The diploma course covers anatomy, physiology, fitness testing, sports coaching and leadership. Students can progress to a range of sports-based degrees.
Now Sienna is preparing to go to Loughborough College to study a sport therapy degree. Sienna said: "I am so happy with my results and to be able to achieve them alongside my results in the pool."
"My goal is to be the best I can in my sport and make the Olympics," added Sienna. "I am really enjoying focussing on my swimming but it is also important that I can continue my studies and keep my options open.
"I didn't think it was possible to focus on my swimming and my studies until I came to the college. The staff and tutors were so accommodating enabling me to excel in both. I am over the moon to be off to Loughborough."
Earlier this year, Sienna won a college Student Celebration Award for outstanding achievement.
James Ellis, Sport Scholarship Lead, The Sheffield College, said: "Sienna is an outstanding student. She has had an unbelievable workload as an athlete that has included early morning training before and after college. Sienna has achieved some amazing things as a swimmer representing England and Great Britain in junior and senior events."
He added: "Sienna's latest impressive achievement at the Commonwealth Youth Games is a testament to her dedication, talent and determination to succeed in and out of the pool. We are thrilled for Sienna and extremely proud of her success and can't wait to see what the future holds for her."
Course places are still available for this September. Apply now.
Pictured: Sienna Robinson (right) pictured with Angela Foulkes, Chief Executive and Principal, The Sheffield College, at the Student Celebration Awards in June 2023.